The perfect gift for a Nature Lover, Art Lover or Thorn Creek Supporter
A quiet and haunting image of the prairie . . . . Inspired by the Thorn Creek Nature Center, Prairie Chapel is an original graphite drawing by artist Marikay Peter Witlock.
Through a generous donation by the artist, the Prairie Chapel print is available with a donation to Friends of Thorn Creek Woods of $75 or more. One hundred percent of donated dollars will benefit Thorn Creek Woods Nature Preserve. Intrigued by the promise of a patch of prairie, Witlock visited Thorn Creek Nature Center in the late summer of 1988. She left that visit with a vision of prairie and chapel woven as one, and a profound sense of the sacred in the land. Prairie Chapel became the first in a series of over 35 drawings combining architectural elements with the grasses and forbs of Illinois.
A local professional artist and tireless volunteer for the arts, Marikay's current artwork is available through The Illinois Artisans' Shop, Chicago, Illinois, and Union Street Gallery, Chicago Heights, Illinois.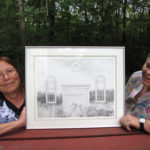 The Prairie Chapel print is a limited edition of 300 signed and numbered prints, with image size of 13" x 17" and finished size of 18" x 21". It is printed on acid free 80 lb. paper. Friends of Thorn Creek Woods is a tax-exempt 501(c)(3) organization. Donations to Friends, over the value of the Prairie Chapel print (valued at $75) are tax-deductible.
For more information please contact: Thorn Creek Nature Center, 708-747-6320 or thorn_creek@att.net.
To view a framed Prairie Chapel print, visit Thorn Creek Nature Center Friday through Sunday from Noon to 4 p.m.
Friends of Thorn Creek Woods is a tax-exempt 501(c)3 non-profit organization.