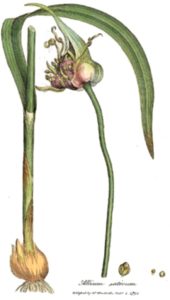 We are not having Garlic Fests anymore, but we do have an all organic pop up garlic sale this year, beginning Friday, September 29 at noon – no early birds.
Pop Up Garlic Sale at Thorn Creek Nature Center
Exotic and heritage garlic bulbs, grown organically at Thorn Creek's Historic Farm, will be available for purchase at a "Pop Up Garlic Sale," during the Thorn Creek Nature Center's regular open hours, Fridays and Sundays noon to 4 p.m. beginning Friday, September 29, as long as supplies last.
Garlic bulbs of some 20 varieties will be sold for $2.50 per bulb to benefit the Nature Center. They can be used for eating or for planting in your garden mid-October. There will also be handouts of planting directions and recipes for DIY gardeners and chefs.
There will be hand-cleaned garlic bulbs and some "on the stem" which can be used for braiding or other projects. This sale takes the place of the Nature Center's former day-long garlic festival at Thorn Creek Woods Nature Preserve in Park Forest, Illinois. This has been an exceptional year for garlic, with perfect weather conditions that have yielded large and hardy bulbs that should delight planters and palates alike.
The garlic featured at the Pop Up Garlic Sale was all hand planted and harvested and dried at the century-old historic farm.
There will be limited quantities of some exotic varieties, in addition to supplies of favorite Inchelium, a soft neck variety, tasty and well adapted to the Midwest.
Due to the limited quantities, the Garlic Pop Up Sale will operate only while quantities last and there will be no early birds or early orders allowed. This is not a festival.  It is suggested you call the nature center to see if garlic is available prior to stopping in.
For more information, contact Thorn Creek Nature Center, 247 Monee Road, Park Forest, at 708-747-6320 or thorn_creek@att.net.  The nature center is open Friday and Sunday, noon to 4 p.m. and trails are open daily, dawn to dusk.